Tennessee 4-H encourages diverse groups of youth to develop their unique skills and talents to the fullest potential. 4-H helps youth prepare for success in the workforce and to be leaders in civic engagement.
Young people participate in 4-H through clubs, special interest groups, after-school programs, camps, and many other activities. "Learning by doing" through hands-on activities and community involvement empowers 4-H'ers to develop and strengthen life skills.
4-H is a family affair. This includes the parent-child relationship and the extended family of community volunteers and 4-H professionals. 4-H is a unique blend of University, private businesses, and volunteers working together to broaden the horizons of Tennessee's young people. 4-H is beneficial for both youth and adults.
Mission
The mission of Tennessee 4-H is to provide research-based Extension educational experiences that will empower young people to gain knowledge, develop life skills, and form positive attitudes to prepare them to become capable, responsible, and compassionate adults.
Vision
4-H is the youth development program of UT and TSU Extension. Preparing young people to become responsible, capable, and involved leaders and citizens of Tennessee, and the nation, is the goal of the 4-H program. The goal is accomplished by providing educational experiences for young people to gain knowledge, develop life skills, live healthy lives, make intelligent career choices, and form positive attitudes—values young people will rely on throughout their lives. Tennessee 4-H, a component of the Tennessee Extension system, is a leader in youth development education that accomplishes the following:
Works with all eligible youth to provide effective, enjoyable learning experiences.
Develops unity in all types of family structures.
Utilizes a quality-applied curriculum in classroom and community-based settings.
Reflects and values cultural and human diversity.
Employs competent, educated, self-motivated staff who are valued assets of the land-grant university system, and are recognized as youth development experts.
Utilizes creative staffing patterns and contemporary working environments.
Delivers programs through cooperative efforts of the University of Tennessee, Tennessee State University, and public and private sector volunteers.
4-H Pledge
I pledge my head to clearer thinking; my heart to greater loyalty; my hands to larger service; and my health to better living, for my club, my community, my country and my world.
4-H Motto
To Make the Best Better.
4-H Slogan
Learn by Doing.
4-H Emblem
The 4-H Youth Development Program is the youth outreach program from the land-grant universities, Cooperative Extension Services, and the United States Department of Agriculture. The 4-H Name and Emblem is intended to represent the ideals of the program with its focus on Head, Heart, Hands, and Health. Today, it is one of the best-known and most-valued images emblematic of more than a century of 4-H achievement.
The 4-H Name and Emblem is a federal mark, within USDA, with protections and standards that exceed that of trademarks and copyrights. Using the 4-H Name and Emblem requires proper authorization. Contact your county Extension office for questions about authorization.
The official 4-H Emblem is a clover with four leaves and an "H" on each leaf. The clover's stem must point to the right as you look at the image. The 4-H Emblem is not a plain four-leaf clover. The 4-H Emblem should appear in specific colors and in its entirety.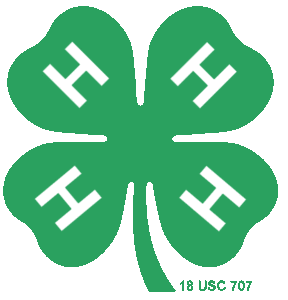 History and Story of Tennessee 4-H
Tennessee 4-H has touched the lives of more than four million young people in our state since its beginning. The reason for this broad impact is that 4-H provides educational experiences that help young people gain knowledge, develop life skills, live healthy lives, make intelligent career choices, and form positive attitudes—values young people will rely on throughout their lives.
4-H in Tennessee began in the early 1900s as corn clubs for boys and a canning clubs for girls. It grew as an educational program to help youth in rural areas develop skills in agriculture and home economics. Historically, membership in 4-H evoked images of farming activities, livestock, cooking, canning, and county fairs. Over the years, however, 4-H has broadened its appeal and outreach to include all young people, whether they live on a farm, in a suburban neighborhood, or in a large urban center. 4-H today includes career fairs as well as county fairs, service to and involvement in communities, healthy living, STEM learning, outdoor recreation, character building, and much, much more.
The story of 4-H includes hands-on learning experiences, challenges, hard work, leadership opportunities, and commitment, but also fun, adventure, lasting friendships, and travel. The story is told in the lives of former 4-H'ers who are today's leaders, and reflected in the healthy, hopeful faces of today's members. It is heard in the way they communicate with confidence and knowledge, seen in what they have accomplished in their projects, and demonstrated in their service to others and their communities.
The 4-H story, however, could not be told without the devotion of 4-H volunteers; the dedication of the 4-H Foundation; the generosity of donors; the support of county, state, and federal governments; and the hard work of UT and TSU professionals.