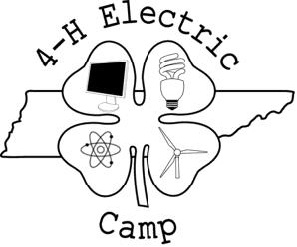 4-H Electric Camp 2021
30th Year Anniversary RoadShow
4-H Electric Camp is a fun-filled, rewarding adventure in electricity. At these regional camps, you will learn what electricity is and how it works. You will work with electrical specialists from across the state in learning centers. Each learning center will consist of hands-on activities so that you can learn by doing. You will also have the chance to meet other 4-H'ers from across Tennessee and explore careers in energy, electricity, and basic sciences. It's an electrifying experience!
June 14th – Clyde York 4-H Center
June 16th – Clyde Austin 4-H Center
June 29th – WTREC
July 1st – William Ridley 4-H Center
2021 4-H Electric Camp is open to any 4-H member enrolled in 6th, 7th, or 8th grades (only for 2021) as of January 1, 2021. 4-H members who attended camp as 6th graders are eligible to return and participate as 7th graders.
The cost of the 4-H Electric Camp is $40.00/participant. The fee includes meals, activities, and take-home items. Registration and fees will be taken through the participants' 4-H office.
| | | | | |
| --- | --- | --- | --- | --- |
| Time | Robotics | Drones | Electric Motors | Virtual Reality Challenge |
| 9:00-9:30 | Registration | Registration | Registration | Registration |
| 9:30 -10:30 | Group 1 | Group 2 | Group 3 | Group 4 |
| 10:40-11:40 | Group 4 | Group 1 | Group 2 | Group 3 |
| 11:45-12:30 | High Voltage Safety Demonstration | High Voltage Safety Demonstration | High Voltage Safety Demonstration | High Voltage Safety Demonstration |
| 12:30-1:30 | Lunch | Lunch | Lunch | Lunch |
| 1:40-2:40 | Group 3 | Group 4 | Group 1 | Group 2 |
| 2:50-3:50 | Group 2 | Group 3 | Group 4 | Group 1 |
| 3:50-4:00 | Evaluations | Evaluations | Evaluations | Evaluations |
The professionals who will be conducting the program are experienced specialists in the fields of electricity and energy. They come from across that state and volunteer their time because of their expertise and love of working with young people.
At 4-H Electric Camp, you will explore the world of energy, electricity, and the basic sciences in fun-filled, "hands-on" learning centers. This year's learning centers feature:
Station 1 – Robotics: Robots were once only seen in science fiction movies; however, today, robots are used to do many jobs in manufacturing facilities and even around your home. In this activity, you will learn how to program a basic robot to accomplish simple tasks.
Station 2 – Drones: Drones have various purposes, such as filming a wildlife video, capturing aerial shots of crops or landscapes, or capturing stunning photos and videos. This learning center will teach you about the different types of drones, the current regulations to fly drones safely and allow you to take the controls and pilot a micro-drone.
Station 3 – Electric Motors: Motors convert electricity into practical work. You will learn in this activity the different parts of an electric motor and how electromagnetism makes a motor turn. You will also put to use what you have learned as you build your own electric motor.
Station 4 – Electrical Safety: Electric power does a tremendous amount of work for us; but, because it is such a powerful force, we must be careful around it. This learning center will teach you how to play it safe around high voltage power lines.
Station 5 – Virtual Reality Challenge: In this activity, you will work together in teams to learn more about cutting-edge technologies like virtual reality (VR) that help engineers solve real-world problems. Your team is an elite group of spies that must defuse a bomb, and you can only succeed by working together.
Appropriate clothing (no cut-offs, tank tops, excessively short shorts, clothing that reveals undergarments, etc.)
Comfortable shoes
Water Bottle
Do Not Bring
Mobile electronic devices (cell phones, iPads, etc.)
Any form of weapons (knives, firearms, etc.)
Any item that is not permitted on school grounds
Each site will follow policy and information contained in Form 600A. Please be sure it is complete and accurate! There will be staff on-site trained in First Aid and CPR; the team will handle more severe incidents on a case-by-case basis through emergency management systems.
Due to COVID restrictions and ongoing precautions, we will not be providing transportation for the 2021 events.
4-H Electric Camp has leadership opportunities for Adult (Agents included) and Teen Leaders. For 2021, please contact your County 4-H Office.
The event is sponsored by University of Tennessee Extension; the Tennessee Electric Cooperative Association and its statewide members; municipal power systems from across the state; and TVA.
Tennessee Electric Cooperative Association
​
Appalachian E.C.
Caney Fork E.C.
Chickasaw E.C.
Cumberland E.C.
Duck River E.C.
Fayetteville Public Utilities
Forked Deer E.C.
Fort Loudon E.C.
Gibson E.M.C.
Holston E.C.
Meriwether Lewis E.C.
Mountain E.C.
Pickwick E.C.
Plateau E.C.
Powell Valley E.C.
Sequachee Valley E.C.
Southwest Tennessee E.M.C.
Tennessee Valley E.C.
The Middle Tennessee E.M.C.
Tri-County E.M.C.
Tri-State E.M.C.
Upper Cumberland E.M.C.
Volunteer E.C.
Tennessee Municipal Electric Power Association

Bolivar Energy Authority
Chattanooga EPB
Cleveland Utilities
Columbia Power and Water
Cookevile Department of Electricity
Covington Electric System
Dickson Electric System
Gallatin Department of Electricity
Greeneville Light and Power
Jackson Energy Authority
Johnson City Power Board
LaFollette Utilities
Lawrenceburg Utility System
Morristown Utility Commission
Mount Pleasant Power System
Murfreesboro Electric Department
Newport Utilities
Pulaski Electric System
Rockwood Electric
Springfield Electric Department
Got a problem? Have questions? Any suggestions?