The National Drug and Alcohol Facts Week marks its 13th anniversary March 20-26, 2023 encouraging communities around the country to Shatter the Myths about substance use and addiction. NDAFW is a joint initiative of the National Institute of Drug Abuse (NIDA) and the National Institute of Alcohol Abuse and Alcoholism (NIAAA), which are both part of the National Institutes of Health (NIH). NDAFW is an annual, week-long observance in which local educational events link teens with science-based facts about drugs and alcohol. This is a great chance to engage youth in a dialogue about the science of drug use and addiction among youth. It provides an opportunity to bring together scientists, students, educators, healthcare providers, and community partners – to help advance the science, so that we can improve the prevention and awareness of substance misuse in our own communities and nationwide.
Follow along the activity calendar to observe this national event here.
What better way to celebrate National Nutrition Month than with a 30 day activity guide! Follow along the guide for simple ways you can celebrate. There are links to recipes and resources throughout the guide. Check out the 2023 guide here. Healthy Living Ambassadors can follow this idea sheet for celebrating in 2023.
The following cooking demos are open to any 4-H member wanting to participate. If funds are available for participants to receive a grocery gift card, the funds are only provided for Tennessee 4-H Members.
Southwest Cooking Demo with Liz Sparks, Arizona 4-H to cook tortillas, potato tacos, salsa, and baked churros. Here is a grocery list of ingredients to cook these recipes. Also, check out the featured video produced by UTIA Marketing and Communications here.
Beef Cooking Demo with Janna Sullivan, TN Beef Council to cook beefy sweet and sloppy joes + beefy pb & j wraps. Here is a grocery list of ingredients to cook these recipes.
Pork Cooking Demo with Phyllis Ferguson, TN Pork Producers Association to cook pork nachos. Here is a grocery list of ingredients to cook these recipes.
Dairy Cooking Demo with Cindy Cooper, The Dairy Alliance to make five different smoothies. You can watch the recorded Zoom here.
Ice Cream Demo (special edition in celebration of June Dairy Month) with Cindy Cooper, The Dairy Alliance to make ice cream in a bag and an ice cream recipe using fruit and yogurt. Here is a grocery list of ingredients to cook these recipes. You can watch the recorded Zoom here.
Mediterranean Cooking Demo with Kristen Johnson, PhD, RDN, Assistant Professor, Family and Consumer Sciences, to make salmon and veggies with healthy dessert options. Here is a grocery list of ingredients to cook these recipes.You can watch the recorded Zoom here.
Outdoor Meat Cookery Demo with Julie Johnson-Crowe, 4-H Volunteer and Outdoor Meat Cookery coach to make grilled chicken, veggie shish kabobs, and grilled corn. Here is a grocery list of ingredients to cook these recipes. You can watch the recorded Zoom here.
Over the Fire Cooking with Scott Reese, Extension Specialist to cook hobo meal packets and an apple crisp packet. Mr. Scott also goes through building a charcoal fire and shared a Dutch oven dump cake recipe to try. Here is a grocery list of ingredients to cook these recipes. You can watch the recorded Zoom here.
Charcuterie Boards with Dr. Lori Gallimore, Extension Specialist to make three different charcuterie boards. Here is a grocery list and recipe cards for each of the three boards: The Pick-Apart Pizza, The Tennessee Tailgate, and Ole'! The Fiesta Foodie. You can watch the recorded Zoom here. Curious how you might display your creations? Check out the final product photos: Pizza, Tailgate, and Fiesta.
Allergy Friendly Snacking with Lauren Woods, Registered Dietitian Nutritionist and Licensed Dietitian/Nutritionist, FCS Extension Agent, Grainger County.
Bites in a Jar Demo will be offered by guest Brigitte Passman, County Director and 4-H Extension Agent, Tipton County along with Tipton County 4-H Members. This demo will feature items that can serve as tasty treats for serving during the holidays or even for you to give as a gift. You can watch the recorded Zoom here. Check out the list of recipes created by Ms. Passman here.
Food Scene Creations Demo will be offered by a returning guest, Dr. Kristen Johnson, PhD, RDN, Assistant Professor, Family and Consumer Sciences. Find the instructions and ingredients here. The 4-H Clover template mentioned in the recording can be found here. The Zoom recording an be found here.
Soup Cooking Demo is offered by guest Lynne Middleton, Extension Specialist. The recipes for each soup and side are available here. The recorded Zoom can be found here.
Red Ribbon Week is the nation's oldest and largest drug prevention awareness campaign. Red Ribbon Week began after the death of Drug Enforcement Administration Special Agent Enrique "Kiki" Camarena was brutally murdered by drug traffickers in Mexico. After his death, people wanted to honor his sacrifice. In 1985, celebrations began in California where Camarena grew up, and in 1988, the National Family Partnership started the first national Red Ribbon Week.
You can celebrate Red Ribbon week with help from the Red Ribbon Campaign Website. Share how you are celebrating on social media and use #healthylivinyall and tag us on Facebook @Tennessee4H and Instagram @tennessee_4h
The National Youth Summit on Healthy Living provides high school students the opportunity to develop the knowledge and skills to address issues surrounding nutrition, physical fitness, wellness, and emotional well-being. Working alongside professional in family consumer science and healthy living, youth participants will create action plans they can implement in their communities to teach other youth about what they have learned.
If you are interested in attending or have questions, contact your local County Extension Office.
More information to come soon!
The Tennessee 4-H Healthy Living Ambassador program is designed for teens who have a passion for healthy living. Each county has the opportunity to appoint one to five ambassadors to represent their county. Healthy Living Ambassadors are committed to serving their county with healthy living programs and advocating for health living practices. Ambassadors work with their 4-H agent(s) to assist with their county's needs as it relates to healthy living. These ambassadors are an asset in accomplishing the goals and outcomes of the 4-H Healthy Living Mission Mandate. Healthy Living Ambassadors serve a one year term, which runs from June 1 – May 31. In 2021-2022, there were 106 Healthy Living Ambassadors in 47 counties across our state.
To become a Healthy Living Ambassador, 4-H'ers should:
Be involved in any project area, not just Nutrition, Health, and Fitness.
Be active 4-H members in grades 9-11.
Have a passion and interest in healthy living
The benefits of serving as a Healthy Living Ambassador include enhancing and promoting 4-H Healthy Living educational experiences; enhancing your 4-H Healthy Living understanding and skills; networking with peers and healthy living leaders; playing a leadership role in moving forward 4-H Healthy Living. Potential opportunities available to Healthy Living Ambassadors include attending the National Summit on Healthy Living, invitation to apply for mini-grants, and involvement with healthy living grants at the county level.
County 4-H Agents have selected their 2021-2022 Ambassadors who began June 1, 2022.
The 4-H Healthy Habits program focuses solely on food access, cooking skills, and basic nutrition behaviors with budgeting. In addition, part of this program is the facilitation of connecting families to all available food resources and programs available in the community. There is the opportunity for families to learn with their child(ren) through one required activity, such as cooking at home, shopping for food, visiting farmers markets, picking produce at a local garden, or community program events. Teen leaders are also active in youth adult partnerships to help deliver the programming to younger youth. The 4-H Healthy Habits program is a partnership between 4-H and the Walmart Foundation.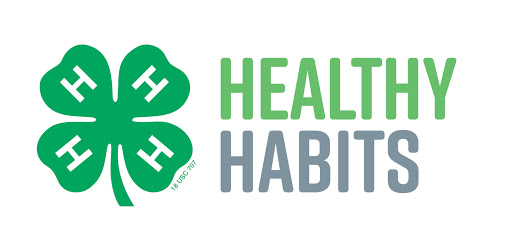 4-H Health Rocks! is a program based on decision-making and appropriate health knowledge with its beginning-level curriculum targeted at youth ages eight to twelve, and intermediate level targeted at youth ages twelve to fourteen. This experiential education program is facilitated by teen/adult leadership teams to help youth learn key messages and skills, such as critical thinking, how to manage stress and peer pressure, how to communicate effectively, and how to critically analyze media messages. Special emphasis is placed on drug, alcohol, and tobacco use prevention. The program also includes components that bring youth and adults together as partners in developing community strategies to prepare young people to make healthy choices. Developing life skills, such as communicating with others, dealing with stress, and critical thinking, help youth develop internal strength to resist risky behaviors. Health Rocks! is designed and implemented on the belief that prevention programs that incorporate experiential learning, life skill development, and decision-making will truly reduce tobacco and drug use in our young people.
The 4-H Health Rocks! Mentoring Program goals are to improve outcomes for youth in the rural Appalachian Region who are high risk for opioid abuse, prevent drug abuse, reduce negative outcomes, and promote positive youth development through mentoring. This program also implements enhanced practices that will enrich positive outcomes and further align with research and evidence on effective mentoring. Peer mentoring is utilized with 4-H activities and the integration of the 4-H Health Rocks! curriculum.