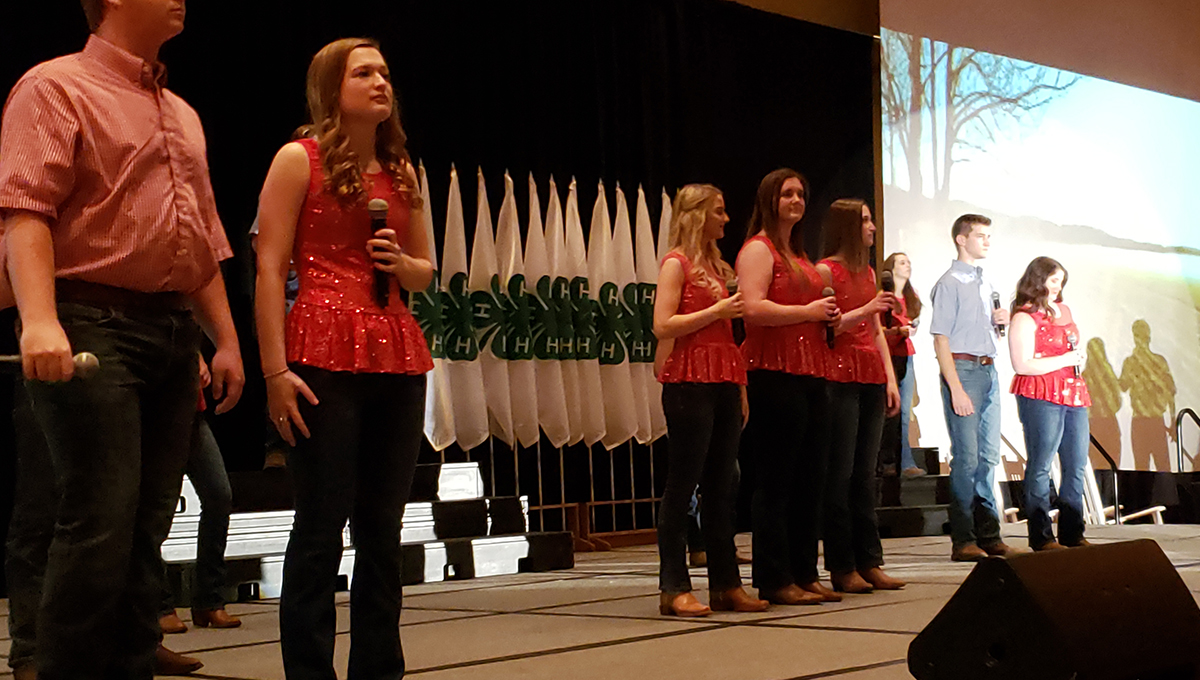 Dwight Loveday, Interim Assistant Dean and Department Head
The 72nd annual Tennessee 4-H Congress was held at the Embassy Suites in Murfreesboro, March 17- 20, 2019. 312 4-Hers, 72 volunteer leaders and 48 4-H project finalists (411 total registered) attended 4-H Congress to learn about state government, Tennessee history, citizenship and leadership. And along the way, many new friendships were made. In dinner theater style, the Tennessee 4-H Performing Arts Troupe kicked off Congress with the traditional pageant depicting Tennessee heritage through song and dance.
For me, there were several program highlights for the 72nd 4-H Congress:
"Know Your Government" – This is always a favorite. It was exciting to see the enthusiasm as 4-Hers debated mock legislation in the capitol chambers. Monday afternoon delegates then made visits to their local senators and representatives.
Interaction with government officials: Governor Bill Lee ad- dressed the Tuesday morning assembly and Lt. Governor Randy McNally spoke at the closing Citizenship banquet. Governor Lee shared his 4-H story with the delegation. Finalist visited House and Senate committee chairmen. Leadership and citizenship finalist also visited legislative leaders and committee chairs.
Interim University of Tennessee President, Randy Boyd visit- ed the Tennessee 4-H Foundation reception prior to attending the Citizenship Banquet.
Educational workshops – TSU hosted Congress delegates in the Avon Williams building to attend citizenship, leadership, servant learning and Tennessee history work- shops.
History Bowl – 4-Hers witnessed a very competitive history bowl with questions from Tennessee history, 4-H History and current events. History Bowl was narrated by Lelan Statom, Channel 5 weatherman and Tennessee 4-H Foundation board member.
"Operation Patriotism": A moving presentation about the history of the American flag performed by the Tennessee Air National Guard.
Cruise on the General Jackson Showboat: The boat captain shared information about the historical importance of paddle wheel boats in river commerce and city development around the rivers. Congress delegates were thoroughly entertained by outstanding performers on the General Jackson.
Citizenship banquet: A dress-up affair to recognize the achievements of youth, government officials and 4-H donors and partners.
Another part of 4-H Congress is the recognition of finalists in 4-H Citizenship, Leadership and 9-12th grade Public Speaking contests. In the Citizenship and Leadership Projects, 24 finalists were named from the 52 entries for Level I and Level II citizenship and leadership. The 52 entries represent an 18% increase from last year.
New for 2019, Tennessee 4-H launched web-based portfolios. 4-Hers placed their project achievements and records on a website. A new component of the portfolio is the "Showcase" section where the 4-Her highlights and emphasize a particular aspect of their 4-H project work.
Level I winners (2) received the Horizon award and are eligible for $500 college scholarships. Level II winners received Ieula Lee Medallions, Silver Bowls and a trip to National 4-H Congress and are eligible to receive $1,000 college scholar- ships.