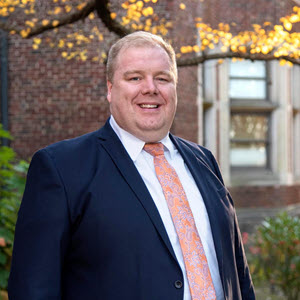 Justin Crowe, Director and State 4-H Program Leader
Since I joined the state 4-H staff in 2008, I've always had the pleasure of serving as the advisor for the University of Tennessee, Knoxville Collegiate 4-H club.
This group of students has always impressed me with their love for 4-H and their interest in serving others and giving back to the program.
Some years ago, I was asked to take on the Future Farmers of America, FFA, collegiate program as well and essentially combine the clubs.
That experience has given me more insight into the FFA program and the many great opportunities that exist with them. Since that time the UT Knoxville 4-H/FFA club has, to my knowledge, been the only combined club at the time in the nation. With a large enrollment and lots of activities for college students, this has been one of the highlights of my career—getting to work with these students and help mentor them as they go through their college careers.
Most recently, I had the opportunity to spend the weekend in Pigeon Forge with the officer team for the 2022/2023 academic year. This group of students is dedicated to collegiate 4-H/FFA and the ideals that both organizations represent. It reminded me (and I often get reminded) of why I do what I do. These young people have a heart to serve; they are interested in putting the needs of others above themselves; and they truly want to make a difference in the lives of other people during their post-secondary careers. We had a wonderful time, got to bond as a group and enjoy some fun and some games, and plan an amazing year for the UT Knoxville Collegiate 4-H/FFA program.
If your county has a community college, trade school, or four-year institution and you are interested in starting a collegiate 4-H program, please feel free to reach out to me.
Have a great day and as always, thanks for what you do!