Shelby Brawner, Extension Assistant/Grant Manager
"I've never tried hummus," said one participant in the Robertson County 4-H Smart Chefs Club. Smart Chefs is a program that provides hands-on learning about nutrition, cooking skills, and physical activity, and, of course, introducing new foods. Utilizing funds from a Walmart Youth Voice: Youth Choice Healthy Living grant, Smart Chefs is currently offered to Springfield Middle School students who get their exercise walking six blocks to the UT Extension Office after school.
Using a variety of resources, including "Adventures in the Kitchen" and "Up for the Challenge" curriculums, youth learn food safety, chopping and measuring skills, and how to make healthy food choices. Each month (January – April) three separate Smart Chef clubs meet one time each. Recipes are prepared and shared for use at home. One of the girls prepared omelets at home for her family after learning how in Smart Chefs. There were thirty-eight participants last month.
The Wii sports interactive game is used to promote physical activity and a
pedometer challenge is coming up later this month.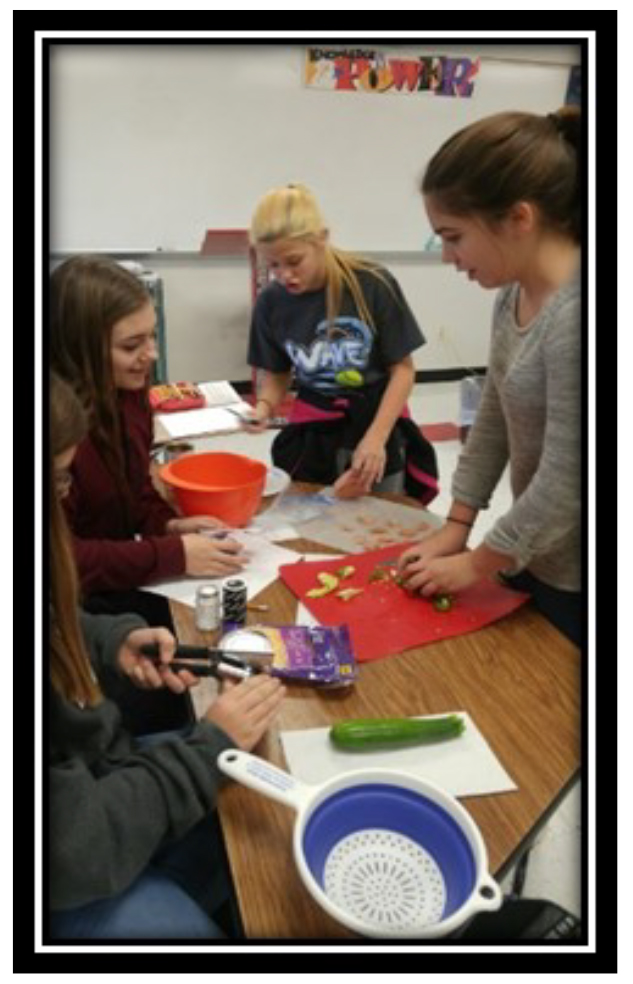 Continuing the 4-H/FCS partnership to deliver cooking and nutrition programs, Youth Voice: Youth Choices became mobile in 2015. Packing up portable stoves, groceries and kitchen supplies, Smart Chefs started on site in a new school, Jo Byrns Middle. Meeting on 1st and 3rd Wednesdays, a new audience is enrolled each semester. Since initiation, a total of fifty-nine 8th grad-ers have participated. The Jo Byrns clubs culminate their series of meetings with a "chopped" challenge.
Students report increased knowledge of
a healthy diet, confidence in preparing foods for them-selves and their families, and can more safely use kitch-en equipment and handle food.