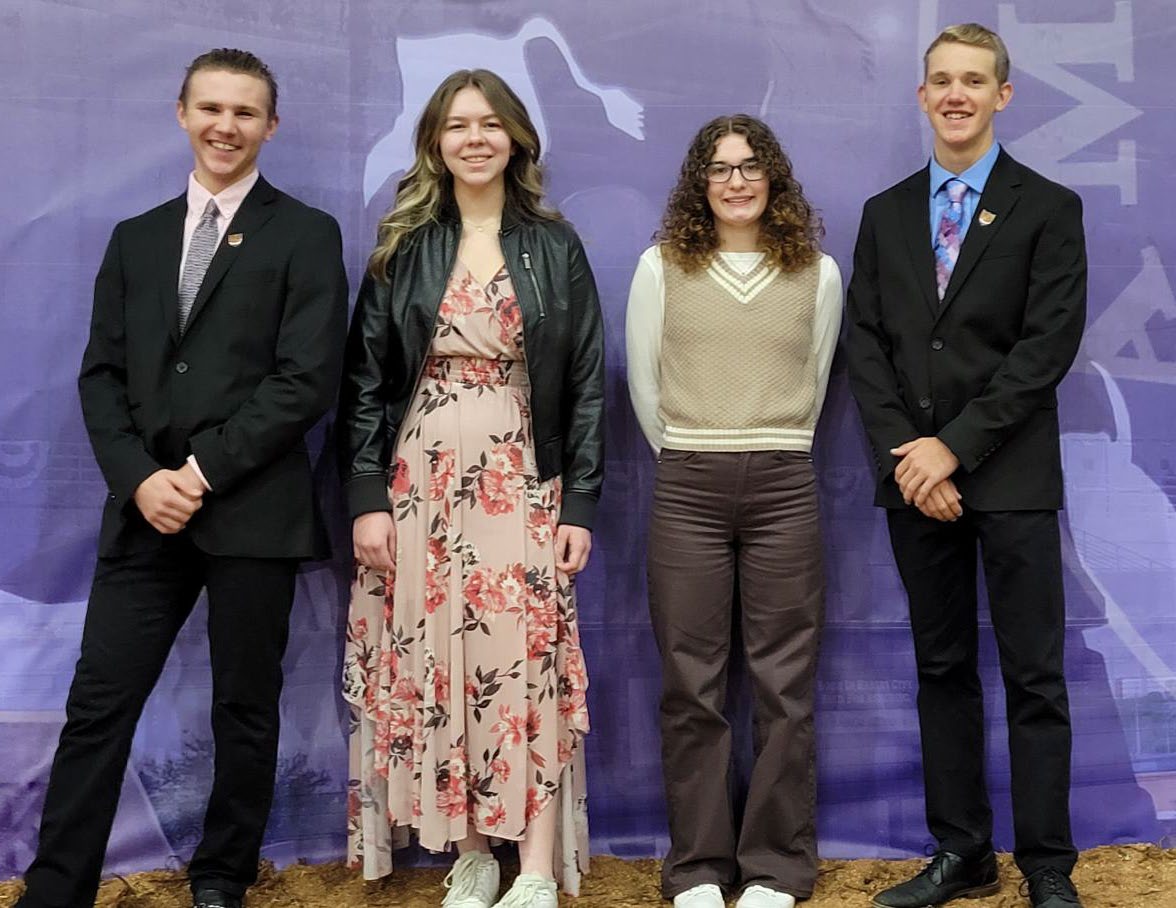 The Hardeman County 4-H Meats Judging Team of Lucie Watkins, Kaylee Bryant, Steven Gibson, and Gibson Bogue competed at the National 4-H Meats Judging Competition held at Kansas State University on October 18, 2022. The group was accompanied by Angie Norwood, a 4-H volunteer, and Gary Rodgers,  Extension 4-H agent. 

Fourteen teams for a total of fifty-two 4-H members made their way to the judging contest, which was held in conjunction with the American Royal Livestock Show in Kansas City, Missouri. The Tennessee 4-H champions finished as the 6th place team overall with their highest achievement coming in Retail ID where they placed 3rd nationally. Numerous award categories are offered at the contest and the team finished no lower than 12th in any category. 

Pork Judging (2 classes and 2 oral reasons) 12th place team; Individually- Kaylee Bryant 34th, Steven Gibson 41st, Lucie Watkins 43rd, Gibson Bogue 50th.

Beef Judging (2 classes) 7th place team; Individually- Kaylee Bryant 16th, Gibson Bogue 28th, Lucie Watkins 30th, Steven Gibson 48th.

Retail Cut Judging (2 classes, one oral reasons) 8th place team; Individually- Kaylee Bryant 14th, Steven Gibson 34th Gibson Bogue 39th, Lucie Watkins 50th.

Retail Cut ID 3rd place team; Lucie Watkins 9th(292/300), Kaylee Bryant 10th (291/300), Steven Gibson 21st(275/300), Gibson Bogue 37th(with a personal best 230/300).

Oral Reasons (3 sets) 12th place team; Individually, Kaylee Bryant 33rd, Lucie Watkins 43rd, Steven Gibson 44th, Gibson Bogue 50th.

Total Judging 12th place team; Individually- Kaylee Bryant 18th, Gibson Bogue 44th, Steven Gibson 45th Lucie Watkins 46th. Final individual placings, combining Judging and Retail ID ended up with Kaylee at 12th, Lucie at 22nd, Steven at 26th and Gibson at 40th.

The group traveled to Manhattan on Monday, October 17th, competed at KSU on Tuesday morning and then made the trip back Kansas City where they visited the Great Wolf Lodge and Indoor Waterpark followed by a great celebration dinner at The Hereford House in Shawnee, Kansas. The competition ended with an awards breakfast at the American Royal Complex in Kansas City.

Thank you to the UT Extension Western Region, Tennessee 4-H Foundation, and the Departments of Animal Science and Food Science for supporting this event. This has been a fun, competitive group to work with these past two years!

Congratulations on your hard work and success!