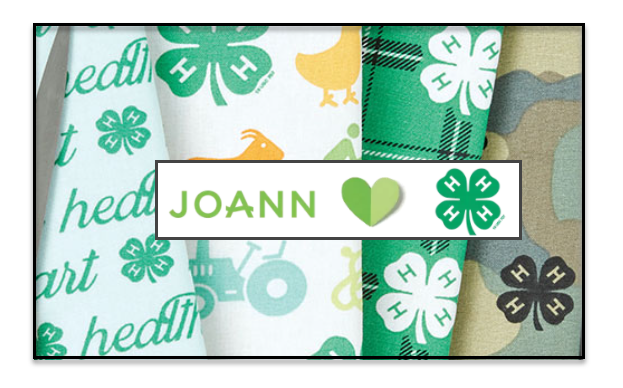 The 2022 spring JOANN point of sale campaign will be taking place from February 1 – April 30! The timeframe is new this year as the campaign will be running for three months instead of two. During this time, customers can donate in-store at checkout or online to support 4-H.
National 4-H Council will be sending out team member kits to all JOANN stores to help increase awareness about our partnership and drive excitement about the upcoming campaign in the stores.
Below you will find a list of JOANN stores in Tennessee along with the contact information for the store manager. Please feel free to reach out to your local store to see how you can be engaged. 
We will share the social media promotional assets once we receive them.
| | | | |
| --- | --- | --- | --- |
| CITY | PHONE | STORE MANAGER | STORE EMAIL |
| CHATTANOOGA | 423-954-2178 | | s0372@joann.com |
| CLARKSVILLE | 931-648-7415 | TERRI SPEGAL | s2372@joann.com |
| DYERSBURG | 731-287-8941 | CYNTHIA THEUS | s0736@joann.com |
| FRANKLIN | 615-771-7676 | RICHARD MOAK | s0975@joann.com |
| GERMANTOWN | 901-757-4681 | | s1433@joann.com |
| JACKSON | 731-512-0911 | CHARLES MAYS | s0820@joann.com |
| JOHNSON CITY | 423-477-5723 | | s2247@joann.com |
| KINGSPORT | 423-247-0225 | SHERRY WAMPLER | s2414@joann.com |
| KNOXVILLE | 865-694-8552 | RONALD STAMPS | s2448@joann.com |
| KNOXVILLE | 865-522-0883 | LINDA TUCKER | s0551@joann.com |
| MADISON | 615-851-9077 | | s1614@joann.com |
| MOUNT JULIET | 615-773-1800 | AMBER MOORE | s0455@joann.com |
| MURFREESBORO | 615-895-9556 | MICHAEL TURNER | s0309@joann.com |
| SEVIERVILLE | 865-453-6596 | | s0225@joann.com |
| TULLAHOMA | 931-393-3173 | KRISTIN PENNINGTON | s1023@joann.com |