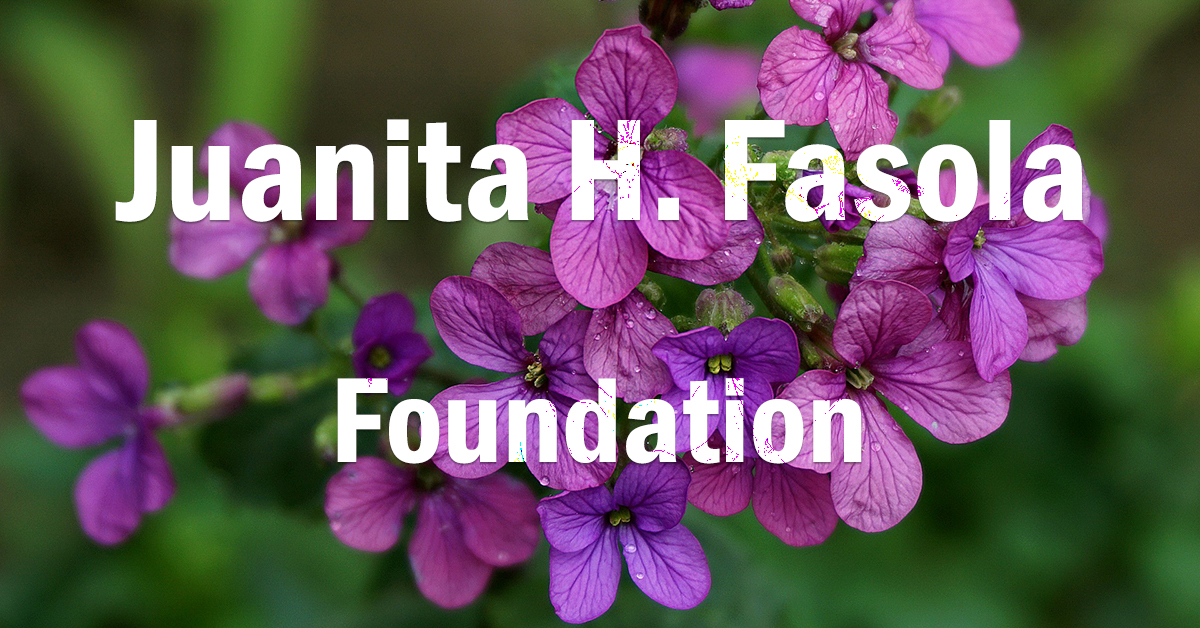 Alice Ann Moore, State 4-H Director, Program Leader, Emeritus
The TN 4-H program has been a beneficiary of the Juanita H. Fasola Foundation through program grants to counties and some regional programs. The grant funds are awarded to counties and regions that complete the appropriate grant proposal process and then the TN 4-H Foundation receives the checks to be distributed to the appropriate recipients. The TN 4-H program has received over $254,892.5 in funds from the Juanita H. Fasola Foundation. The Foundation has distributed over $754,761.50 to non-profits throughout the East TN area since it was formed in 2008.
The Fasola Foundation was formed at Juanita's request before her death in 2009. Juanita was an Ex- tension Agent in the 1940's and later served as a Food Marketing Specialist with UT Extension. Her desire to make a difference beyond her Extension career lead her to form a trust. The TN 4-H pro- gram is not the only organization that benefits from the Fasola Foundation. Other organizations such as The Restoration House, Hindman School in Kentucky, Rural Resources in Greeneville, Laurel Just Lead – Emerald Youth Foundation, El Centro Hispano, Carson Newman FCS Department, Volunteer Ministries, KARM and many more.
Prior to setting up the trust, Juanita made a large donation ($400,000) to the Smoky Mountain District which is now the Eastern Region. The donation resulted in an endowment (which still exists today) for 4-H programs primarily FCS projects like the Clothing Fashion Camp, Foods and Nutrition and life skill programs/projects. The donation was facilitated by Dr. Bill Hicks, Jesse Francis and Alice Ann Moore, all who had a good relationship with Juanita.
Juanita had a love for UT Extension and for young people. Her interests were in life skills specifically in the areas of financial management, nutrition, clothing, literacy and helping those with disabilities. Decisions regarding the how the Foundation is managed and who receives funds through the grant application process are determined by a Board of Directors. Current members of the board are Carmen Burgos, Pat Carver, Secretary, Bill Hicks, Joe Holt, Alice Ann Moore Chair and Attorney Ed Cox. Others who have served on the board are Jesse Francis, Fran Hatley and Ruth Peterson.
As a past Extension Agent, District Director and State 4-H Director/Program Leader, I know how even $2000 can help in making a difference in the kind of opportunities that you can offer to youth in your county program.
We as board members are very pleased to offer the opportunity for county, regional and state professionals to apply for grants that will enhance the 4-H program in Tennessee. More information for TN 4-H Agents can be found on the Tennessee 4-H Foundation website.