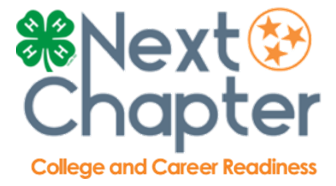 Shelby Brawner, Extension Specialist
Just last week, we concluded our four part, Zoom In-service series. In addition to information about the program, one session was dedicated to agent's who participated in the pilot year sharing their experiences and best practices and another session involved the UT Knoxville Office of Undergraduate Admissions Office Regional Counselors. There were roughly 25 new counties interested in participating in Next Chapter for the upcoming year with 40 individuals attending these Zoom sessions.
If you were unable to join in and want to learn more about implementing the Next Chapter pro- gram in your county, you are in luck! All sessions were recorded so you are able to watch later. If you have any questions about the Next Chapter program, please do not hesitate to reach out to me at Shelby Brawner.