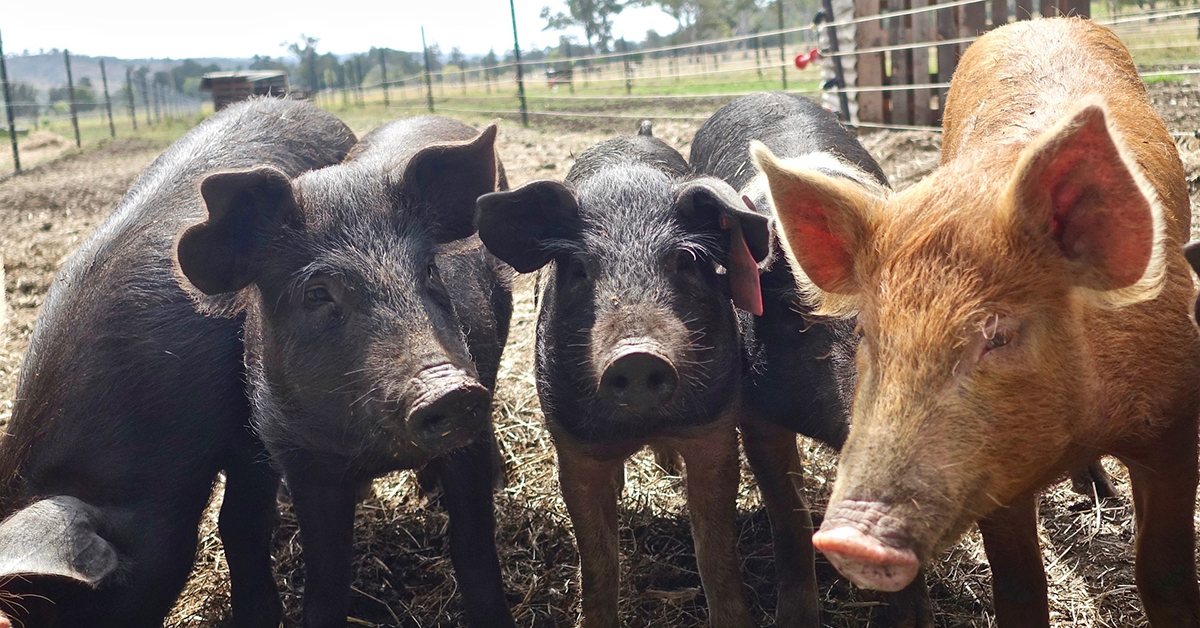 Aaron Fisher, Youth Livestock and Equine Specialist
A very successful Tennessee State Junior Swine Show was recently completed. The show featured 284 youth exhibitors from 38 counties that showed 560 hogs. This included 158 Breeding Gilts and 402 Market Hogs. In addition to the individual hog classes, youth competed in showmanship (290 youth), skillathon (245 youth) and the ultrasound carcass class (91 youth). The judge for the show was Seth Ebert, Boar Stud Manager for A Cut Above in York, Nebraska.
Additionally, youth were asked to participate in a canned food drive. Youth collected a total of 712 cans of food that were donated to a local food bank. Clay and Loudon Counties will be awarded a pizza party for the highest participation in the canned food drive courtesy of the Tennessee Pork Producers Association.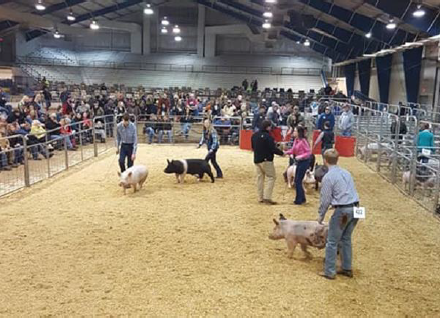 The 2019 Tennessee State Junior Swine Show was held in conjunction with the Tennessee Pork Producers Association annual meeting. A special thank you to all the Extension staff, specialists, parents, volunteers and sponsors who made this year's show a success! Award and general sponsors are included below:
Farm Credit Services of Mid-America, Harford Insurance, Hart Show Pigs, James Meat Company, Jenkins Show Pigs, PIC USA, Prater Show Pigs, Reese Brothers Mule Company, Tennessee Department of Agriculture, Tennessee Farm Bureau Federation, Tennessee Farm Bureau Insurance, Tennessee Farmers Cooperative, Tennessee Feed and Grain Association, Tennessee Livestock Producers, Tennessee Pork Producers Association, Tosh Farms, Tractor Supply Company, TTU School of Agriculture, Ty Jones Show Stock, Twisted Fitters Show Supply, UT Animal Science, UT Herbert College of Agriculture, Wampler's Farm Sausage, Zoetis.
Show Result Highlights:
Read about the complete show results.
The Prospect Classes are part of the Market Hog Show. The Champion Prospect was Bethany Sims from Roane County and the Reserve Champion Prospect was Samantha Roberts from McMinn County.
New for 2019, a Grand Champion Drive was added where breed champions and reserve champions competed for an overall top 5. Below are the participants and winners from the grand drive.
Breeding Gilt Champion Drive:
Breed
Champion
Count
Overall Placing
Reserve Champion
County
Overall Placing
Berkshire
Gracie Rue
Roane
Sophie
Helton
Cumberland
Chester White
Emma Rue
Roane
4th
Wesley
Trew
Polk
Duroc
Bethany
Sims
Roane

Tylan Lusk
Warren
Hereford
Jaden
Mertz
Warren
Grace
DeBusk
McMinn
Spot
Emma
Bedford
Emily
McMinn
Yorkshire
Ellie White
Clay
1st
Bethany
Sims
Roane
2nd
AOB
Audra Hart
Bledsoe
Collen
Mertz
Warren
Crossbred
Lincoln
Bledsoe
3rd
Gage
McMinn
5th
Market Hog Champion Drive:
Breed
Champion
Countu
Overall Placing
Reserve Champion
County
Overall Placing
Duroc
Mary Carter
Shirley
White
2nd
Bethany
Sims
Roane
Yorkshire
Lincoln
Bledsoe
4th
Eli Mundy
Claiborne
AOB
Audra Hart
Bledsoe
5th
Hannah
Sanders
Warren
Crossbred
Bethany
Sims
Roane
1st
Maddie
Rippy
Sumner
3rd
In the Carcass Class, hogs are ultra-sounded to collect measurements of important carcass traits, with 38 hogs qualifying or the purple class. To be a Purple Award, hogs must have a live weight between 250-280 pounds, a 10th rib fat thickness between 0.50-0.80 inch and a loin muscle area between 7.0-9.99 square inches. A special thank you to Dr. Rob Fitzgerald of PIC for performing the ultrasound measurements.
Below is a list of the Carcass Top Ten.
Will Poyor Williamson County
John Allen Leath Sumner County
John Hamilton Clay County
Will Dodson Clay County
Kenley Roark Macon County
Caden McKnight Monroe County
Ethan Troglin Cumberland County
Keri Cox Bradley County
Lake Bates Hickman County
Elizabeth McCollum Williamson County
Showmanship Winners:
Explorer Division

Champion – Jake Ozburn, Bedford County
Reserve Champion – John Allen Leath, Sumner County

Junior Division

Champion – Audra Hart, Bledsoe County Reserve Champion – Ellie White, Clay County

Junior High Division

Champion – Bethany Sims, Roane County
Reserve Champion – Maddy Rippy, Sumner County

Senior Level 1 Division

Champion – Eli Mundy, Claiborne County
Reserve Champion – Foster Wingler, Rutherford County

Senior Level 2 Division

Champion – Lincoln Hart, Bledsoe County
Reserve Champion – Samantha Roberts, McMinn County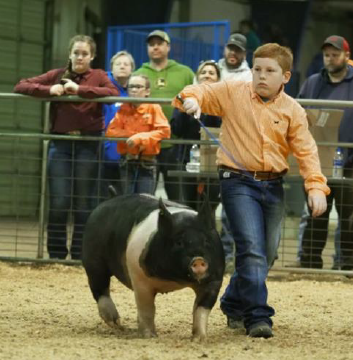 Skillathon Winners:
Explorer Division

Brett Rogers, Sumner County
Ransom Johns, Williamson County
Ava Shrader, Jefferson County
Drew Comer, Macon County
Hudson West, Macon County

Junior Division

Kendall Hamilton, Clay County
Audra Hart, Bledsoe County
Logan West, Macon County
Kenley Roark, Macon County
Caden McKnight, Monroe County

Junior High Division
Callie Head, Sumner County
Kyra White, Macon County
Eli Rich, Clay County
Caleb Baird, Sumner County
RuthAnn Johns, Williamson County
Senior Level 1 Division

Wesley Trew, Polk County
John Neely, Rutherford County
Ella McLerran, Clay County
Liam Allen, Williamson County
Stephanie Bates, Bradley County

Senior Level 2 Division

Kennedy Hill, Union County
Keri Beth Cox, Bradley County
Kaitlin Taylor, Wilson County
Collen Mertz, Warren County
Heath Kimes, Clay County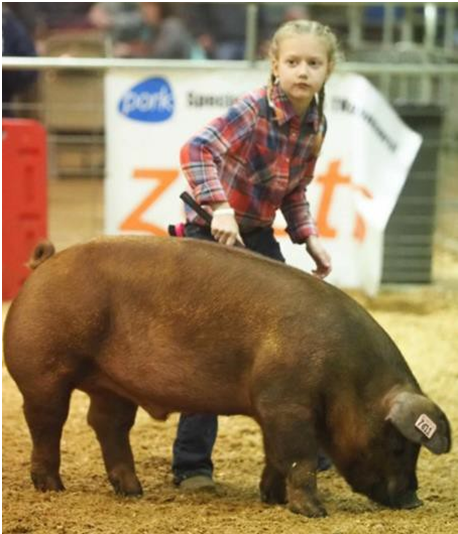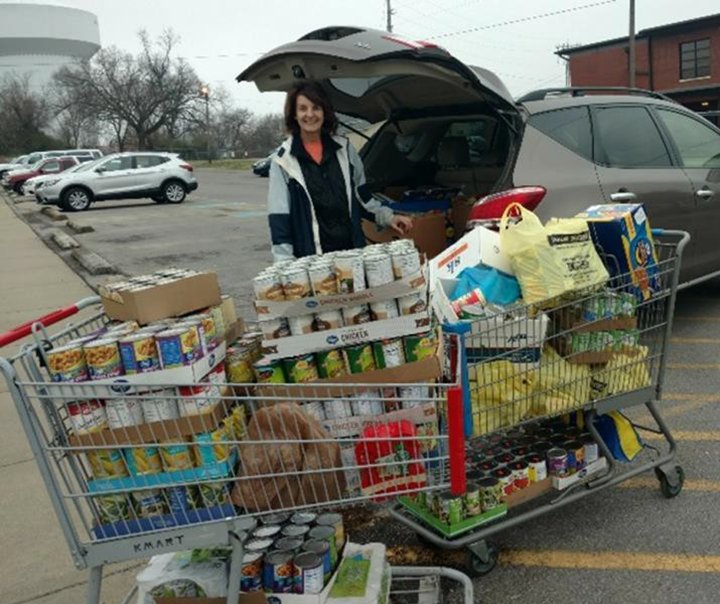 Premier Exhibitor Winners:
Explorer Division

Breeding Gilt

Emma Rue, Roane county
Tylan Lusk, Warren County
Jake Ozburn, Bedford County
Samantha Taylor, Rutherford County
Ransom Johns, Williamson County

Market Hog

drew Comer, Macon County
Tylan Lusk, Warren County
Emma Rue, Roane County
Haley Poynor, Williamson County
John Allen Leath, Sumner county
Junior Division

Breeding Gilt

Kenley Roark, Macon County
Audra Hart, Bledsoe County
Laney West, Bedford County
Elizabeth McCollum, Williamson County
Kendall Hamilton, Clay County

Market Hog

Audra Hart, Bledsoe County
Kenley Roark, Macon County
Mary Carter Shirley, White County
Kendall Hamilton, Clay County
Logan West, Macon County
Junior High Division

Breeding Gilt

Bethany Sims, Roane County
Kyra White, Macon County
Maddie Rippy, Sumner County
Gage Latham, McMinn County
Emily Cline, McMinn County

Market Hog

Kyra White, Macon County
Maddie Rippy, sumner County
Bethany Sims, Roane County
Will Poynor, Williamson county
RuthAnn Johns, Williamson County
Senior Level 1 Division

Breeding Gilt

Wesley Trew, Polk County
Hannah Sanders, Warren County
Eli Mundy, Claiborne County
Ella McLerran, Clay County
Sophie Helton, Cumberland County

Market Hot

John Neely, Rutherford County
Wesley trew, Polk County
Hannah Sanders, Warren County
Eli Mundy, Claiborne County
Grace Rich, Clay County
Senior Level 2 Division

Breeding Gilt

Kaitlynn Norton, Sumner County
Kennedy Hill, Union County
Samantha Roberts, McMinn County
Lincoln Hart, Bledsoe County
Madisyn Harris, Loundon County

Market Hog

Kennedy Hill, Union County
Kaitlin Taylor, Wilson County
Madisyn Harris, Loudon County
Samantha Roberts, McMinn County
Lincoln Hart, Bledsoe County