By Anna Johnson, Roane County Agent
What's Happening in Roane County?
Roane County 4-H continues to grow! This year, we had some exciting things happen.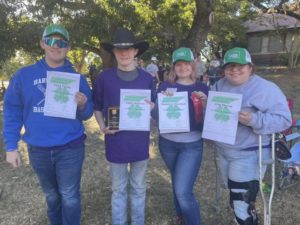 We elected club leaders in the classroom during the month of November and club leaders had an opportunity to participate in a leader training so they could return to the classroom and assist their club. We are excited about our club leaders and I look forward to our first meeting in January.


Our Grill Master Team was invited to the State Contest and the team received 2nd Place in the State. Team members included: Madelynn Sherman, Luke Taylor, Cloe Murray and Kaleb Hoffman. These were all first time grillers and did an outstanding job.
Madelynn received 2nd place in chicken BBQ at the State and earned a trip to the National Poultry and Egg Conference November 16-17 and participated in the Turkey BBQ Contest where she had to prepare a 10 min presentation on the Turkey Industry and prepare Turkey Burgers on a Charcoal Grill. She received 5th place overall. Job well done.
Mattie Roark, Appalachian Fair Fairest of the Fair, visited Head Start in Unicoi County to help us celebrate Ag Literacy Week and read to classes.
A 2021 graduate of Daniel Boone High School and a former Washington County 4-H member, Roark has a heart for agriculture and has made her project as Miss Appalachian Fair focused on supporting local farmers.