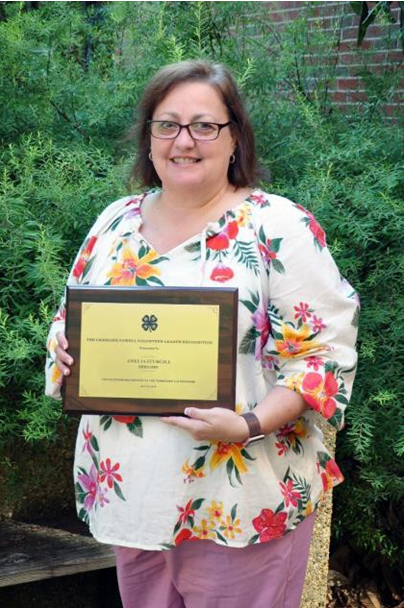 Carmen G. Burgos, Extension Specialist
The state winner in the adult volunteer leader recognition program for 2019 is Amelia Sturgill from Fentress County. The award was presented Tuesday night, July 23 at State 4-H Roundup during the Project Achievement Awards Banquet at UT, Knoxville. The award includes a trip to National 4-H Congress in Atlanta and the Charlene Hamilton Powell memorial plaque sponsored by Dr. and Mrs. Kenneth Kant.
Amelia has served as a volunteer leader for 7 years. She is involved with youth at camp, Honor Club and All Star activities, judging 4-H events, preparing youth to give a speech and demonstrations. She also helps coach a Wildlife Judging team. At the regional level, Amelia is a chaperone for the Spring and Fall All Star Conferences and the All Star Council Planning Retreat, and is on the 4-H Camp Advisory Board. At the state level, she has served as a volunteer for Congress, Roundup and the Southern Region Teen Leadership Conference (which is a multi-state conference).
Congratulations to both Amelia Sturgill and Christie Tinch the Fentress County Extension agent!