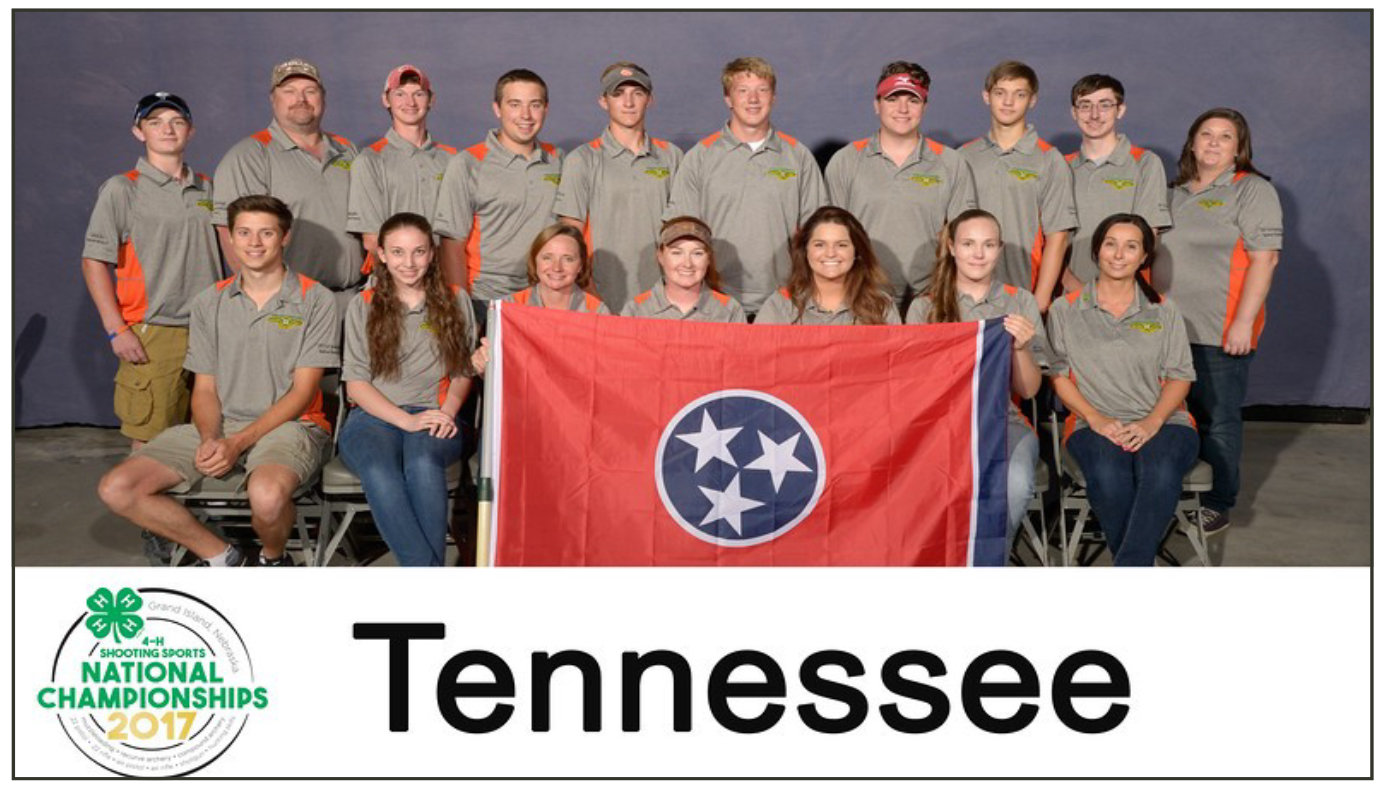 Daniel Sarver, Extension Specialist
Thirteen Tennessee 4-H members competed in the National 4-H Shooting Sports Championships as a member of the Tennessee State 4-H Team. The national competition was held on June 25 – 30, 2017 in Grand Island, NE.   Darby Payne, Extension Agent from Giles County, led the Tennessee 4-H delegation. Other coaches were Sandra Flood, Volunteer, Shelby County; Jimmy Arms, Volunteer, Putnam County; and Susan Foster, Volunteer, Williamson County. For a picture of the delegation, go to the 4-H Website.
Tennessee 4-H youth competed in the disciplines of Air Rifle, Compound Archery, Re- curve Archery, and Shotgun. Over 700 youth from 36 states participated in this National 4-H event. Lincoln Dillman, 4-Her from Knox County said of the experience, "I had a great time at Nationals and really enjoyed the opportunity as well as shooting. I met a lot of new people from around the country and really got to know my teammates from around Tennessee. It was a once in a lifetime opportunity that I am glad I had the chance to attend, it was cool!"
Donors, sponsors and supporters for the 4-H Shooting Sports National Championships include: Vista Outdoor- Federal Ammunition, Champions Traps & Targets, Bushnell, RCBS, Savage Arms, Larry & Brenda Potterfield-Founders & Owners of Midway USA, National Shooting Sports Foundation, Hodgdon Powder Co., Hornady Mfg., National Wild Turkey Federation, the Nebraska Shooting Sports Foundation and the Civilian Marksman- ship Program.
Notable team and individual placings are:
Shotgun (Team) – 4th
Jordan Osborne (Individual Shotgun) – 7th
All of the results can be found on the 4-H Shooting Sports National Championships website.
The members and adult coaches of the team are:
| First | Last | County | Discipline | Role |
| --- | --- | --- | --- | --- |
| Sandra | Flood | Shelby | Air Rifle | Coach |
| Davis | George | Shelby | Air Rifle | Competitor |
| Nathan | Hagan | Weakley | Air Rifle | Competitor |
| Jimmy | Arms | Putnam | Compoud Archery | Coach |
| Jeremiah | Andress | Sumner | Compoud Archery | Competitor |
| Dawsen | Arms | Putnam | Compoud Archery | Competitor |
| Dalton | Greer | Cheatham | Compoud Archery | Competitor |
| Calvin | Weeks | Henderson | Compoud Archery | Competitor |
| Susan | Foster | Williamson | Recurve Archery | Coach |
| Rebecca | Foster | Williamson | Recurve Archery | Competitor |
| Mahayla | Goedde | Lincoln | Recurve Archery | Competitor |
| Ian | Terrell | Williamson | Recurve Archery | Competitor |
| Darby | Payne | Giles | Shotgun | Coach and State Coor. |
| Lincoln | Dillman | Knox | Shotgun | Competitor |
| Jordan | Osborne | Giles | Shotgun | Competitor |