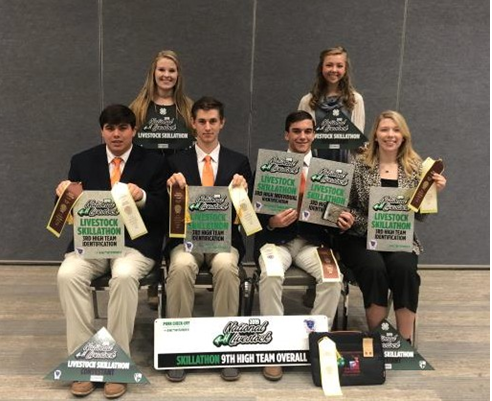 Thomas Greenlee, Extension Agent, Rhea County
Six 4-H members from across the state were selected from the skillathon competition at the State Swine, Beef, and Sheep Expositions to represent Tennessee at the National Skillathon contest in Louisville, Kentucky at the North American International Livestock Expo. Each of these members distinguished themselves through their knowledge and ability in their respective species to earn their spot on the team.
The National Skillathon Contest is very in-depth and challenges the youth with both individual and team activities. These activities include individual identification, evaluation, quality assurance, and a quiz while the team activities include quality assurance, marketing, selection, evaluation, and nutrition stations. The contest tests both the practical knowledge and applied ability of the contestants.
This year's team was made up of Chance Bow (Cumberland), Avery Chandler (Anderson), Kennedy Hill (Union), Sorrell Martin (Lincoln), Jana Owen (Lincoln), and Daniel Tallent (Knox) and coached by Steve Edwards and Thomas Greenlee. These youth worked hard and represented Tennessee well. In a very tough competition, Tennessee was named 9th overall and 3rd in the team Identification section while Daniel Tallent was 3rd overall in Identification and named as an All American. This honor is given to the top 20 individuals in the contest overall.
Each of the members left this trip with a unique experience and are more prepared for their future endeavors. This is a great learning experience for the youth and allows them to broaden their horizons while truly learning by doing. From the coaches and team, we would like to say Thank You to everyone who helped with the team as well as those who allowed us to use their stock for practice. We would also like to extend a big Thank You to the Cumberland County office staff for allowing us to use their facility on a weekly basis for three months to practice for the contest.