Aaron Fisher, Youth Livestock and Equine Specialist
The Tennessee Youth Livestock All-Star banquet was held on October 11, 2019 in Hollingsworth Auditorium on the University of Tennessee campus. The purpose of this banquet was to highlight the accomplishments of youth involved in the youth livestock projects over the past year. Youth (89 total) were selected based on their performance at:
State swine, beef, sheep and goat shows relative to animal placing, showmanship, skillathon and premier exhibitor
State 4-H livestock, meat and dairy judging contests
State 4-H livestock and dairy quiz bowl contests
State 4-H beef, dairy, swine, sheep, goat and vet science projects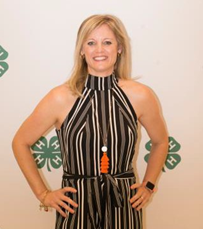 The keynote speaker was Coach Kellie Harper, who challenged the youth to continue to strive for excellence even after a very successful year.
This evening was made possible by the below sponsors:
Presenting Sponsor:
Tennessee Farmers Cooperative
Division Winner Society:
Dr. Dwight and Rita Loveday
Supporters:
Tennessee Livestock Producers
UT Department of Agricultural and Resource Economics
Class Winner Society:
Tennessee Farm Bureau Federation
Tennessee Pork Producers
UT Department of Animal Science
UT Department of Food Science
UT Herbert College of Agriculture
The 2019 Tennessee Youth Livestock All-Stars include:
Avery Chandler – Anderson County
Gideon Chandler – Anderson County
Allison Davis – Bedford County
Dorothy Brandon – Bedford County
Ethan Stickler – Bedford County
Ian Alcox – Bedford County
Jake Ozburn – Bedford County
Nick Moore – Bedford County
Abigayle Houser – Bledsoe County
Audra Hart – Bledsoe County
Lincoln Hart – Bledsoe County
Keri Beth Cox – Bradley County
Chelsey Harvey – Claiborne County
Eli Mundy – Claiborne County
Jocelyn Essary – Claiborne County
Ellie White – Clay County
Kendall Hamilton – Clay County
Brody Lowe – Cumberland County
Aubrey Paulk – Dickson County
Taylor Cantrell – Dyer County
Maggie Lamon – Giles County
Brooke Hyleman – Hamblen County
Brayden Lawson – Hawkins County
Jacey Moncier – Hawkins County
Sarah Cate Orr – Henry County
Rebecca Finchum – Jefferson County
Daniel Tallent – Knox County
Kendra Sellers – Knox County
Cassie Lewis – Lauderdale County
Cole Lehnert – Lawrence County
Ada Corder – Lincoln County
Alex Moore – Lincoln County
Colton Moorehead – Lincoln County
Eli Dotson – Lincoln County
Ella Pollock – Lincoln County
Jana Owen – Lincoln County
Jimmy White – Lincoln County
Maggie Dunivan – Lincoln County
Matthew George – Lincoln County
Nic Bradley – Lincoln County
Sorrell Martin – Lincoln County
Zach Snoddy – Lincoln County
Carson Green – Macon County
Drew Comer – Macon County
Jayden Hesson – Macon County
Kenley Roark – Macon County
Kyra White – Macon County
Caroline Garrell – Marshall County
Jayme Ozburn – Marshall County
Abigail Henry – McMinn County
Gage Latham – McMinn County
Joseph Henry – McMinn County
Samantha Roberts – McMinn County
Parker Saum – McNairy County
Addyson Trew – Polk County
Wesley Trew – Polk County
Mary Carter Shirley – Putnam County
Walker Housley – Rhea County
Bethany Sims – Roane County
Emma Rue – Roane County
Brayden Anderson – Rutherford County
Emily Nave – Rutherford County
Harrison Falkofsky – Rutherford County
Haylee Ferguson – Rutherford County
John Buyrl Neely – Rutherford County
Micayla Hickman – Rutherford County
Samantha Taylor – Rutherford County
Sammy Walter – Rutherford County
Sarah Greenwood – Rutherford County
Brett Rogers – Sumner County
Callie Head – Sumner County
Kaitlynn Norton – Sumner County
Maddie Rippy – Sumner County
Kennedy Hill – Union County
Hannah Sanders – Warren County
Karley Warner – Warren County
KeyLe Rhea – Warren County
TJ Warner – Warren County
Will Prater – Warren County
Avery Rowlett – Wayne County
Kyeler Penick – Weakley County
Morgan Riley – Williamson County
Shelby Thames – Williamson County
Will Poynor – Williamson County
Anna Powell – Wilson County
Annie Whitfield – Wilson County
Kaitlin Taylor – Wilson County
Marshal Hull – Wilson County
Sarah Powell Wilson