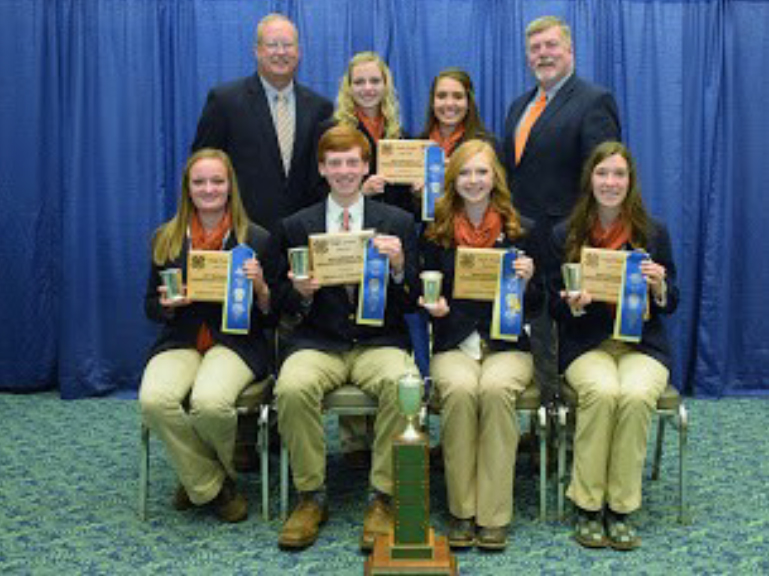 Dr. Richard Clark
The TN 4-H Livestock Skillathon Team won the National Skillathon Contest Wednesday, November 15 in Louisville Kentucky at the North American International Livestock Exposition. The team dominated the contest and won the overall competition by more than 100 points.
There are three parts to the contest. All three have individual and team components.
First part is identification. It's comprised of identifying breeds of livestock, cuts of meat and livestock equipment. Tennessee won this part and had first, second, fourth and fifth high individuals.
Second part was evaluation. It's made up of Hay and wool judging as well as team activities in marketing and selection. Tennessee was second overall team in evaluation.
Third part was quality assurance. It is made up of an individual quality assurance activity, a quiz and a live animal hands on team activity. Tennessee won this part and had fourth, fifth and sixth high individuals.
In the overall awards Tennessee had first, second, third and ninth high individuals with all being named All Americans.
Team members and overall award rank were:
Garrett Franklin, Clay County (1st)
Kendall Martin, Lincoln County (2nd)
Juliann Fears, Lincoln County (3rd)
Abby Tipton, Loudon County (9th)
Makenzie Moorehead, Lincoln County
Abi Bartholomew, Henderson County
County Agents Alan Bruhin, Sevier County and John Goddard, Loudon County were team coaches.
There were a number of individuals and agricultural businesses that helped the team with sponsorship and they received some assistance in training by some of the University of Tennessee Extension specialist in the Animal Science and Food Science Departments.