Carmen G. Burgos, Extension Specialist
""I enjoy seeing the girls that I work with use their own creativity to make their project special."
Anne Proctor has been a 4-H Volunteer for 18+ years. She began as a volunteer when her daughter Katherine began summer sewing classes as a 4th grader and has continued to volunteer with the sewing classes even after Katherine moved on to High School.
The sewing project group averages around 5-7 youth. All aspects of learning math, science, and technology are used to help them understand the sewing process. A shopping trip to a local fabric store is one of the many learning experiences Anne provides. She walks them through the process of choosing a pattern, selecting fabric and calculating the cost of the garment. The 4-H members love this activity. Anne also help start an after school cooking club called Smart Chefs several years ago. She have been able to see the very first group graduate from college and every one of them become very successful adults and says, "It makes a volunteer very proud! "
Anne shares the following; "I love being a volunteer because I enjoy sharing the knowledge and skills that have been passed down to me by my mother and grandmother and other volunteers. What it all boils down to is relationships. You build a relationship with the youth and then the by product is learning. I enjoy seeing the girls that I work with use their own creativity to make their project special."
Anne is a Robertson County 4-H alum. Her project was Dairy Foods and she was also on the Dairy Foods Judging team. Anne is an administrative assistant at Springfield Middle School, and includes volunteering in many church activities in her busy schedule. She has received the Governors Star Volunteer Award for Robertson County. Anne is embarking on a new adventure this fall by going back to college to complete a degree in Business Management that she started 30 plus years ago. She plans to pursue a BS concentrating on Not for Profit Organizations.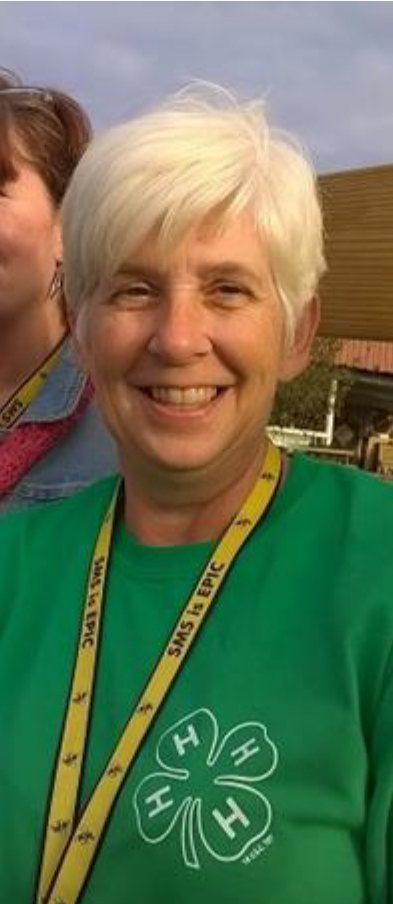 Over the past 15 years, she has attended both the Volunteer Conference of the Southern States and the Multi-State Volunteer Conference, as well as state volunteer forums. Anne is one of our state representatives on the Southern 4-H Volunteer Advisory Committee.
"I truly feel like our volunteer leader group in Robertson County is a family. I think that is why it is a successful partnership. We are all working together for a common goal and that is to grow our youth to be future leaders for tomorrow. We work to build their confidence which empowers them to accomplish goals they otherwise would not have attempted. Kathy Finley, our 4-H Extension agent, has a unique way of making you feel valued as a part of the 4- H organization.
"Why wouldn't you want to be a part of something that helps us grow our tomorrow?"