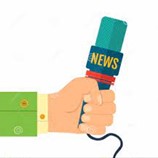 Tom Broyles, Extension Program Leader, 4-H Youth development
Each year, county reporters are selected from each county from the pool of delegates going to Tennessee 4-H Congress. Upon their arrival to Congress, the reporters go through training on how to write and report their Congress story. The goal is for each reporter to submit an article to their local newspaper and/or to make a presentation in their community to share their experiences of Tennessee 4-H Congress with their local communities, donors, and stakeholders.
This year, each reporter was asked to email the news article and/or presentation that they created. Each entry/name was submitted into a drawing. The name selected wins a $50 4-H gift basket for his/her efforts.

Congratulations to Bethany Hughes, Crockett County 4-H member, and 2021 4-H Congress delegate! Her name was drawn from all the entries. She will receive the $50 4-H gift basket.

We were thrilled to have 25 outstanding news article and presentation submissions from our 4-H Congress delegates from across the state! Our thanks to all the 4-H agents who worked with their county reporters to make this happen! These reports will be used as examples to help train next year's group of county reporters at the 2022 Tennessee 4-H Congress.