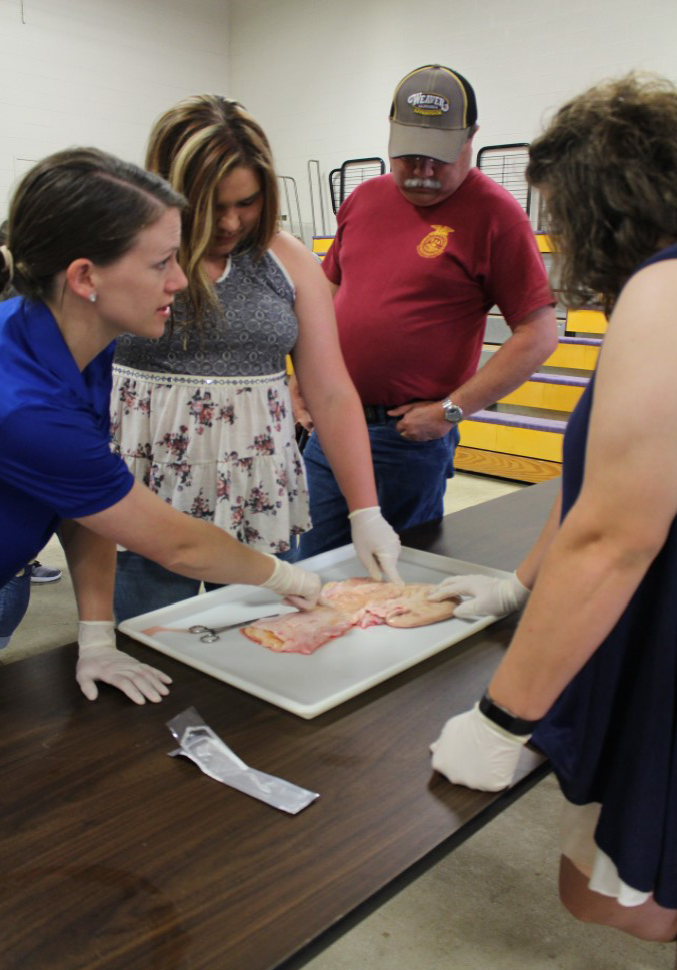 Claudia Baney, Extension Specialist
Approximately 75 youth, parents and volunteers participated in State 4-H Sheep Conference, May 26-27, at Tennessee Tech University.Tennessee Farmer's Cooperative, FACCT and Tennessee Sheep Producers Association partnered with UT Extension to sponsor the event.
Activities began Friday night with a session for 8th- 12th grade sheep exhibitors to learn about sheep reproduction. Jessy Shanks, lecture with the University of Tennessee Department of Animal Science, talked to the youth about the principles of sheep re- production. Participants had the opportunity to dis- sect reproductive tracts.
Saturday's program started off with skillathon train- ing lead by teen leaders. Caroline Davis, UT Animal Science student, taught each participant how to make a rope halter. Following the skillathon training, were sessions on feeding, health tips, showmanship, and fitting. Steve Edwards, led the showmanship and slick shear fitting trainings. Nate Long, former Tennessee 4-Her, assisted youth in grooming sheep to be shown in fleece. Matt Crisp, nutritionist for Tennessee Farmer's Cooperative, gave tips on sheep nutrition, feeding, and health.
Following the educational sessions, a mock skillathon contest was held.Teams were comprised of each teen leader's group from the morning training. Randall Kimes helped to put the contest together and several parents and volunteers manned each station.
The wining mock sillathon team was:
Caroline Patterson, Clay County
Amy Blackston, Lawrence County
Wyatt Goodrich, Anderson County
Tyson Warner, White County
Senior 4-H and FFA members participated in a sheep quiz bowl. The winning team consisted of:
Emily Ellison, Cocke County
Emily Nave, Rutherford County
Taylor Young, Bedford County
The top educational exhibits were from:
John Buyrl Neeley Rutherford County
KeyLe Rhea,Warren County
Karley Warner,White County
Quiz bowl, skillathon educational exhibit winners all received prizes from TN Farmer's Cooperative.