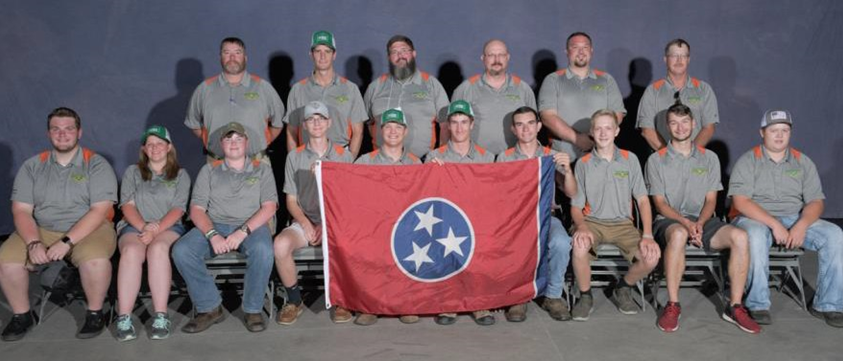 Daniel Sarver, Extension Specialist
Tennessee 4-H members competed in the National 4-H Shooting Sports Championships as a member of the Tennessee State 4-H Team. The national competition was held on June 23 – 28, 2019 in Grand Island, NE.
Tennessee 4-H youth competed in the disciplines of Air Rifle, Compound Archery, Recurve Archery, and Shotgun. Over 650 youth from 41 states participated in this National 4-H event. All of the results can be found on the 4-H Shooting Sports National Championship website.
The members and adult coaches of the team are:
| First | Last | County | Discipline | Role |
| --- | --- | --- | --- | --- |
| Ben | Eley | Bedford | Air Rifle | Coach |
| Chance | Phillips | Bedford | Air Rifle | Competitor |
| Clint | Parker | Sumner | Recurve Archery | Coach |
| Jordan | Ossman | Hamilton | Recurve Archery | Competitor |
| Austin | Parker | Sumner | Recurve Archery | Competitor |
| Kyeler | Penick | Weakley | Recurve Archery | Competitor |
| Hunter | Tuttle | Sumner | Recurve Archery | Competitor |
| Aaron | Spurling | Rhea | Compound Archery | Coach |
| Andy | Davis | Hawkins | Compound Archery | Competitor |
| Riley | Young | Rhea | Compound Archery | Competitor |
| Scott | Sisk | Moore | Shotgun | Coach |
| Lacie | Bohanan | Hancock | Shotgun | Competitor |
| Hunter | Curland | Henderson | Shotgun | Competitor |
| Michael | Sisk | Moore | Shotgun | Competitor |
| Scott | Reese | State | | State Coordinator |