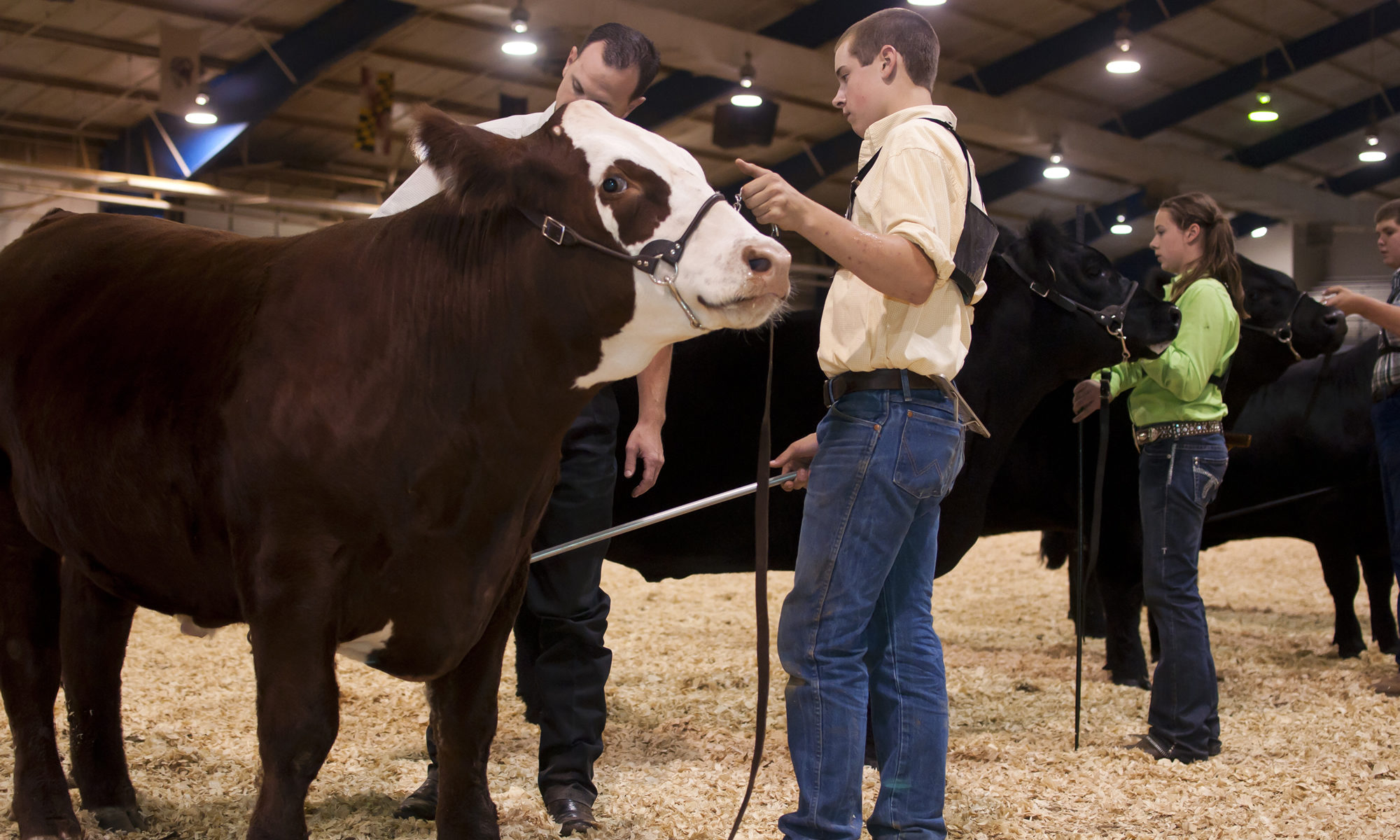 Aaron Fisher
, Extension Specialist

, Youth Livestock and Equine Programs

A very successful Knoxville Spring Junior Cattle Expo was held at the Tennessee Valley Fairgrounds on April 23-24. The show featured 76 youth exhibitors from 27 counties. This included 22 market steers, 25 commercial heifers and 85 registered heifers. In addition to the individual beef classes, youth competed in showmanship (67 youth) and skillathon (58 youth). The judge for the show was Noah Henson, Area Livestock Agent in Western North Carolina who lives in Canton, North Carolina.

Award and general sponsors are included below:
Knoxville Chamber, Tennessee Cattlemen's Association, UT Animal Science, David and Carolyn Thomas, East TN Angus Association, East TN Polled Hereford Association, Knoxville Livestock Auction Center, Food City, Tennessee Farmers Cooperative, CN Cattle, 3L Cattle

Complete show results can be found on the Animal Science website.

The Grand Champion Market Steer was exhibited by Collin Cook from Robertson County, while the Reserve Grand Champion Market Steer was exhibited by Kate Lamon from Giles County.

The Grand Champion Commercial Heifer was exhibited by Maggie Lamon from Giles County, while the Reserve Grand Champion Commercial Heifer was exhibited by Kabry Tinin from Lawrence County. The Farm Bred Division is designed to recognize youth exhibitors and their families that breed and raise quality animals on their home farm. The Grand Champion Farm Bred Commercial Heifer was exhibited by Avery Rowlett from Wayne County, while the Reserve Grand Champion Commercial Heifer was exhibited by Joseph Henry from McMinn County.

Breed classes were offered for any breed that had 8 registered heifers from at least 3 different youth exhibitors. The Bred By Exhibitor Division is designed to recognize youth exhibitors that breed and raise quality animals themselves. Winners from the Registered Heifer classes are listed below.

Angus
Champion Collin Cook Robertson County
Reserve Champion Maggie Lamon Giles County
Champion Bred By Exhibitor Kendra Sellers Knox County
Reserve Champion Bred By Exhibitor Ty Maynord Overton County

Hereford/Polled Hereford
Champion Audra Hart Bledsoe County
Reserve Champion Audra Hart Bledsoe County
Champion Bred By Exhibitor Audra Hart Bledsoe County
Reserve Champion Bred By Exhibitor Audra Hart Bledsoe County

Shorthorn
Champion Jaclyn Thomas Bledsoe County
Reserve Champion Landon Ellison Lawrence County
Champion Bred By Exhibitor Brett Asbury Claiborne County
Reserve Champion Bred By Exhibitor Brett Asbury Claiborne County

Shorthorn Plus
Champion Gracie Giles Loudon County
Reserve Champion Sam Teeple White County
Champion Bred By Exhibitor Brett Asbury Claiborne County

Simmental
Champion Kutler Tinin Lawrence County
Reserve Champion Emma Armstrong Bledsoe County
Champion Bred By Exhibitor Caroline Garrell Lincoln County

All Other Breeds
Champion Cole Ledford Bradley County
Reserve Champion Stratton Stafford Giles County
Champion Bred By Exhibitor Dustin Pitcock McMinn County
Reserve Champion Bred By Exhibitor Sam Gravely Wilson County

Showmanship Winners
Explorer Division (grade 4)
Champion – Jaclyn Thomas, Bledsoe County
Reserve Champion – Kenlie Cornelius, McMinn County

Junior Division (grades 5-6)
Champion – Stratton Stafford, Giles County
Reserve Champion – Landon Ellison, Lawrence County

Junior High Division (grades 7-8)
Champion – Kabry Tinin, Lawrence County
Reserve Champion – Audra Hart, Bledsoe County

Senior Level 1 Division (grades 9-10)
Champion – Maggie Lamon, Giles County
Reserve Champion – Lila Sims, Humphreys County


Senior Level 2 Division (grades 11-12)
Champion – Shyann Smith, Lawrence County
Reserve Champion – Dustin Pitcock, McMinn County

Skillathon Winners

Explorer Division (grade 4)
Kenlie Cornelius, McMinn County
Ruthie Hall, Blount County
Jaclyn Thomas, Bledsoe County
Colton Lee, Fentress County
Cole West, Monroe County
Junior Division (grades 5-6)
Ransom Johns, Williamson County
Jocelyn Essary, Claiborne County
Charles Ivey, McMinn County
Van Richardson, Union County
Macy Gourley, Monroe County
Junior High Division (grades 7-8)
Gracie Giles, Loudon County
Caroline Garrell, Lincoln County
Evan Jackson, Henderson County
Caden McKnight, Monroe County
Joseph Henry, McMinn County
Senior Level 1 Division (grades 9-10)
Abigail Henry, McMinn County
Clay Owen, Lincoln County
Clara Dailey, Monroe County
RuthAnn Johns, Williamson County
Emma Armstrong, Bedford County
Senior Level 2 Division (grades 11-12)
Mason Collins, Marshall County
Cole Ledford, Bradley County
Isaac Heck, Claiborne County
Kendra Sellers, Knox County
Micah Calkins, Blount County
Premier Exhibitor Winners
The purpose of the Premier Exhibitor Program is to provide 4-H and FFA members the opportunity to demonstrate the skills and knowledge that they learn through participating in the junior livestock projects. Premier Exhibitor winners are a result of adding the points earned in the animal show, showmanship and skillathon. Below are the top 5 winners in each division.
Explorer Division (4th grade)
Kenlie Cornelius, McMinn County
Jaclyn Thomas, Bledsoe County
Colton Lee, Fentress County
Ruthie Hall, Blount County
Cole West, Monroe County
Junior Division (5th-6th grades)
Ransom Johns, Williamson County
Sam Teeple, White County
Stratton Stafford, Giles County
Landon Ellison, Lawrence County
Korbin Henderson, McMinn County
Junior High Division (7th-8th grades)
Gracie Giles, Loudon County
Audra Hart, Bledsoe County
Evan Jackson, Henderson County
Caroline Garrell, Lincoln County
Clay Pitcock, McMinn County
Senior Level 1 Division (9th-10th grades)
Abigail Henry, McMinn County
Clay Owen, Lincoln County
Emma Armstrong, Bedford County
Clara Dailey, Monroe County
RuthAnn Johns, Williamson County
Senior Level 2 Division (11th-12th grades)
Mason Collins, Marshall County
Cole Ledford, Bradley County
Kendra Sellers, Knox County
Dustin Pitcock, McMinn County
Shyann Smith, Lawrence County
Contact Aaron Fisher for more information.