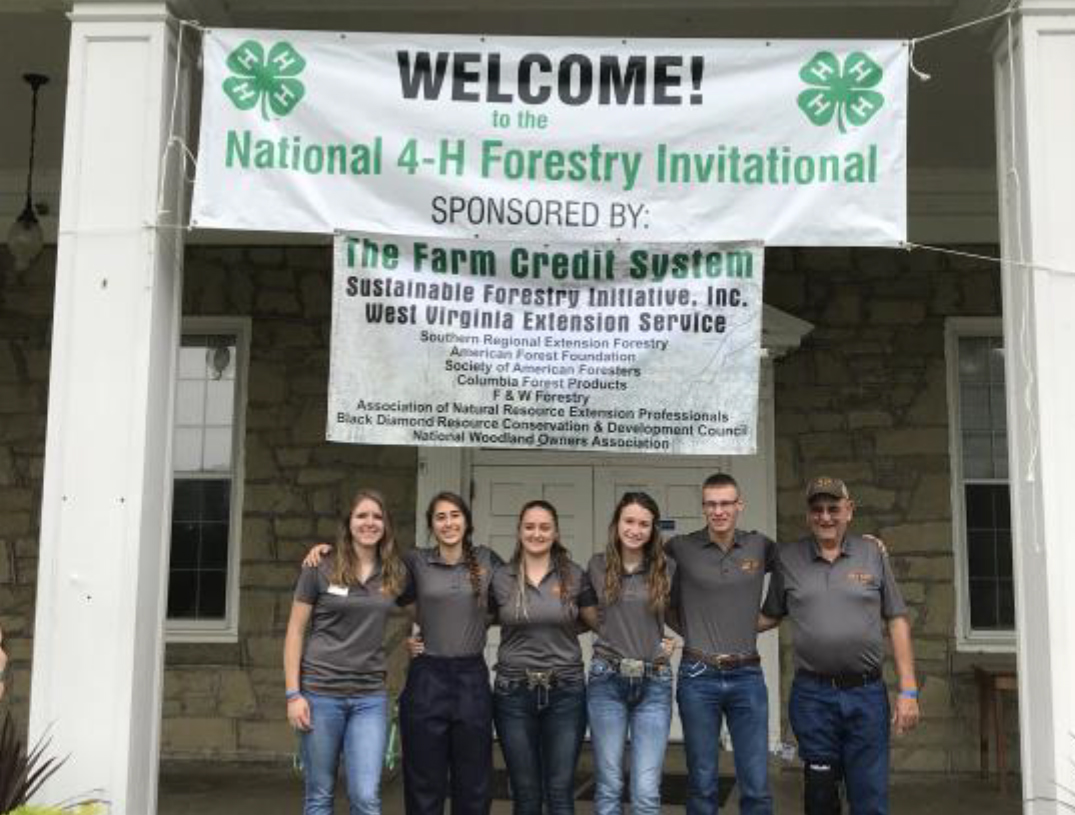 Emily Barton, Extension Agent Carter County
The Carter County 4-H Forestry Team placed 12th in the Nation at the 39th annual National 4-H Forestry Invitational. The Invitational was held Sunday July 29 through Thursday August 2 at West Virginia University Jackson's Mill State 4-H Camp and Conference Center near Wes- ton, West Virginia.
The Tennessee team members were Haley Rankhorn from Roan Mountain, Kaci Ritchie, of Elizabethton. John Tapp, of Elizabethton and Alayna Turbyfield, of Elizabethton. The team was coached by Retired Agriculture Teachers Buddy Farmer and Bill Meredith, Retired Extension Agent Keith Hart, and 4-H Agent Emily Barton. A special thank you to James Heaton and Brandon Stout with the Tennessee Division of Forestry and Retired East Tennessee Forester Martin Miller for their help preparing the team for competition. While at the Invitational, 4- H members competed for overall team and individual awards in several categories. Events included tree identification, tree measurement, compass and pacing, insect and disease identification, topographic map use, forest evaluation, the forestry bowl and a written forestry exam.
The goal of the National 4-H Forestry Invitational and the Tennessee 4-H Forestry Judging programs in addition to developing an appreciation for conserving forests for a variety landowner purposes are to help students develop leadership and citizenship skills, public speaking, and character development for career success, not only in the forestry industry, but in all pursuits. Students who participate in Judging Teams are learning and practicing decision-making skills and teamwork as they work to achieve a common goal. They are learning to find and use credible sources to evaluate scenarios and present recommendations based on credible evidence and fact.
In preparation for this contest, the Carter County 4-H Team had to qualify at regional competition in September 2017 and place 1st at state competition in October 2017 to have the opportunity to compete at the National 4-H Forestry Invitational. Upon achieving these goals, the team met weekly and studied independently to learn the new skills needed for the Invitational. The team traveled around the region to Roan Mountain State Park, Sycamore Shoals, Rotary Park, Gap Creek Forestry Station, Bays Mountain State Park, and many other locations to build their skills.
The National 4-H Forestry Invitational would not be possible without the generous support of our local sponsors who donated to help the team prepare and attend the contest: American Stave, The Clark Family Foundation, Carter County Soil Conservation District, East Tennessee Nursery Association, DBA New Look Outdoor Services, and several private donors.
Additionally, thank you to the sponsors of the National 4-H Forestry Invitational: Farm Credit System, Sustainable Forestry Initiative, Inc., USDA Forest Service State and Private Southern Region, West Virginia University Ex- tension Service, American Forest Foundation, Southern Regional Extension Forestry, Society of American Foresters, Association of Natural Resource Extension Professionals, Columbia Forestry Products, F & W Forestry, National Woodland Owners Association, and Black Diamond Resource Conservation and Development Council.